And please Donate here:
http://igg.me/p/112527
Please share with all your friends, and we hope to see you on October 13!
We need everyone's help to make Faeriefest happen! Please join in and become a backer in our Indiegogo campaign! We have many awesome rewards to everybody that gets involved! Check our our youtube video:
Current Mood:

excited
Click here to become a supporter.
This year has been quite different as I've been more excited about the holidays than usual. For one, we have a very nice house, which we did not go crazy about decorating due to time and budget restrains, but it sure is awesome to have a living room to watch tv in :D
Seth and I have our very own christmas tree this year... or rather halloween tree. It has purple lights, and it's decorated with orange flickering candle lights, and black and silver bats. He also took a wrath and decorated it with skulls... it's so lovely!


Our umbrella organization: Santa Barbara Dance Alliance, for advise and guidance

Our venue: Solvang Theaterfest
Mike and Lynda, from Knight Broadcasting
Our graphic artist, Lydean Works
Our sponsors

Solvang Trolley Ice Cream Parlor, The Red Viking Restaurant, Olsen's Bakery, Karkajou Automaton, Designs in Gold, The Mystic Merchant

On the concession Stand:

Lorena and Jen, from Solvang Trolley Ice Cream Parlor

Our staff and volunteers
Lorena, Sal Sr, and Sal Jr. Orona (my family :D, thanks for putting up with my shenanigans), Richard O'Steen, Ginger and James Cleland, Charlotte Marie, Evi Jacobs, Harleigh Hudson, Seth Hudson, Matt Gonzalez, Jenn Craig

Our performers:

Krischana
Buhdi Harlow
Lisa Gumm
Marc Irving Weber
Rare Elements Dance Collective
Dana and Blue Moon Haven
Ryan Trask and Niantic
Greg Vaughan, Jose, Anna, from the Children of Dawn
The girls from Judeen's School of Middle Eastern Dance

And thank you to everybody who attended, vended, gave advice, signed our guest book, donated, and helped Faeriefest be the success it was.


See you next year :)
Current Mood:

sleepy
I found a store at a mall called Love Culture. I was not attracted by the clothes displayed nearly as much as the beautiful interior
I really wanted to take this black chandelier home, though that would involve taking everything out of the house to get it inside...
As for the clothes, the idea is the same as stores like Papaya, Forever 21, and the like. They sort out the clothing by styles, such as business-dressy, sporty, bohemian, lacey, etc. And then they have huge displays of jewelry, intimates, bust enhancers, hosiery, and shoes.
I need to get more lacey blouses to throw on like this...
And yes, pouffy ivory skirts...
My mom urged me to try on a dress she found on a rack, and I also tried on a gathered white skirt. They looked pretty good, and they fit well. The skirt was 18 dollars and the dress was 35. While I absolutely loved them, I had in the back of my mind the fact that I want to feed a good amount to my savings at the end of the month. Plus, even though the clothes look great on the hanger and when tried on, the quality could be a lot better. The linings were very thin and lacked body, and there were a lot of loose threads. If I had the extra money lying around, I probably would have taken clothes home, but truth be told is that I have plenty of fabric stored that needs to be used, and dresses like this don't take much time to make with the help of a serger...
I did take pictures to encourage me to sew for myself every so often. I'll be back to that store soon one of these days that tips are generous.
Now don't you think I came back empty handed from our trip. NOT AT ALL! I bought some black chunky shoes to wear everyday and with everything, a new towel and soap holder for the bathroom at my shop, and a rod to turn the walk-in closet into a changing room for my clients.
Today I got to venture with my mom into the depths of one of the neighboring cities (living and working full time in the countryside, this does not happen often. I probably would have chosen to stay and sew, but I needed to go shopping for things (confortable shoes for work and well... any time stilettos are not practical).
Current Mood:

satisfied
Heading out to the fashion show in Buellton... I'm showing two outfits, not as many as I wanted to show, but it's just that "Solvang is not ready for this"... apparently garters showing under petticoats and corsets is far more outrageous than thongs peeking over mini skirts that we are so used to seeing every day on the street.
Current Mood:

amused

Current Music:

amor psycho, Voodoo Zombie
Like a good food prep trooper, we gotta cover our hair... I'll have to make a bonnet just for this! and a matching apron...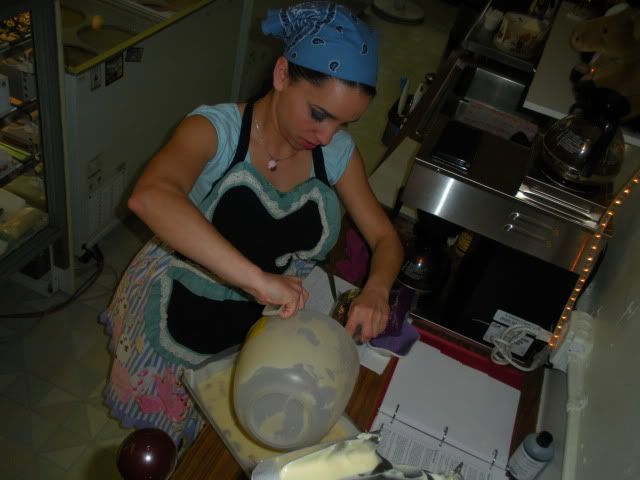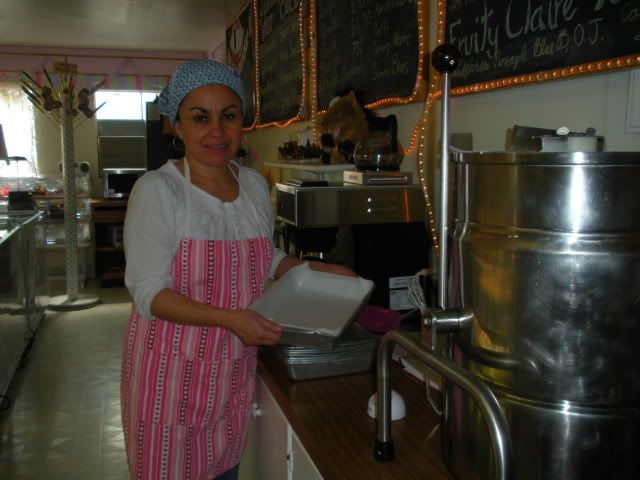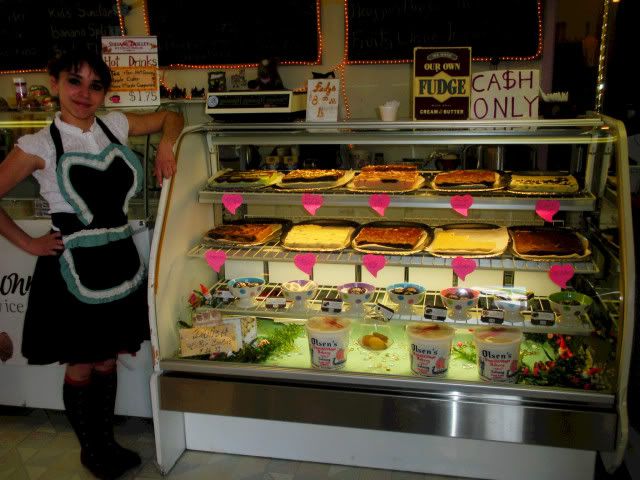 We made 10 flavors and 12 trays... one we gave away at a birthday party and the other one we froze to rework later... The fudge began selling as soon soon as we displayed it... and I have to make more already! We're planing on selling fudge bunnies for easter, as well as bunny buddy packs with different kinds of fudge :) And then there's fudge turtles, fudge-dipped fruit, marshmallows and apples... oh boy.
My mom and I decided to go ahead and sell fudge at the Ice Cream Shop. It is so much fun! I probably read the manual about 5 times and watched the videos just as many times to make sure I did not mess it up. I ended up making about 66 pounds in about 8 hours....
Current Mood:

cheerful
I'm well underway to having a fully functional sewing studio! Today I assembled my rack shelves that I'm sure are hundreds of dollars worth, but I had to spend about 50 on extra pieces to put together. It was a very fun project, and now I can fold and stack my fabric neatly without having to dive into cardboard boxes or closets every time I need something.
Then, as I was on my way to GS to print out some invoices, I found a discarded tv table on the trash. It has two drawers missing, but that's all right. I had to climb up to the huge dumpster and then fish it out. I rolled it all across downtown Solvang to get it to my studio, which was a lot of fun too :D. Turns out it is too small for all of my drawer plastic boxes, but it is large enough to stack drawing paper on it, and so, it became the drawing and painting supply station.
So, what I'm missing to get my studio to optimal running conditions:
Candles for my candelabra (if anybody knows where I can get them in bulk, please let me know. They MUST drip though. )
Drapery and curtains- The boring shutters just don't cut it and are very time-consuming to clean. Plus, curtain rods are great for hanging velvet, lace, organza, beads, and things that will dress up a naked wall.
Trash cans- Small ones to have lying around so that I don't have to walk to the big one every time
A tea set and a kettle
Maybe a small kitchen station with a microwave and a small fridge, and a coffee brewer
A pingpong table- For cutting big big BIG projects
cork board or similar- Will stick it up in the wall, and will stick stuff on it like reminders, movie theater schedules, thank you notes, and cool stuff I find around
A welcome mat- with spiderwebs or something spooky
Cushions for work chairs- The metal just doesnt cut it.
A heater- This one I will actually shell out good money, since I want it to look like a fireplace
Bathroom stuff- Matching trash can, towel, soap dish, and a first aid kit for those times when I sew my fingers.
A couch- Lined with velvet and lace for resting
A full-body mirror
A Male dress form
A bigger dress form
A smaller dress form
A kids dress form
More ironing boards, tailor's ham, sleeve ironing device, etc
A good vacuum
More posters and pictures of cool stuff
Last, I need to work on having a good portfolio... I am thinking about making a book that looks like the freshly-dug book of hamoon Rah...
I intend on getting most of this things in a thrifty way, as I am saving my money for all of you dear snarklings that chose to be born within the same month <3
Please let me know if you can help me find any of this things... thanks!